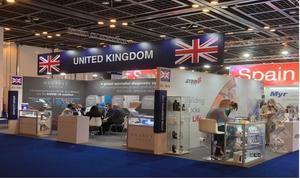 LABORATORY MEDICINE, TECHNOLOGY & DIAGNOSTICS
BOOKING DEADLINE TBC

Why Exhibit at Medlab Middle East?
The below is an extract from the February edition of the GAMBICA Lab Brief member newsletter.
THIS YEAR'S Medlab was definitely by far the best I have experienced in my time at GAMBICA. The new location, right by one of the main entrances and very close to the largest of the conference halls, meant that the GAMBICA members had very high numbers of visitors to their stands, so much so that one had run out of literature and business cards by the end of day two. Participants in the GAMBICA pavilion said the event had exceeded their expectations and gave the event an average score of 8.7 out of 10. They came away with over 150 leads each on average, and those who could estimate said they expected to do over £250,000 worth of business on average as a result of the show.
There were good numbers of buyers from across the Middle East, with Kuwaiti and Saudi Arabian life science labs well represented and many buyers apparently in search exclusively of high quality UK manufactured products. A number of exhibitors reported being asked explicitly to affirm that their products were not made in China.
Jacqueline Balian, Sector Head Laboratory Technology
Event Website www.medlabme.com

Download a copy of the 2023 Group Participant List here
For more details and to register your interest contact our International Event Manager, Kirsty Roberts on 07587 081026 or email