GAMBICA's 40th Anniversary golf day won by Russell Maccabe of WEG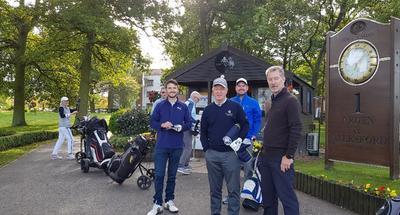 GAMBICA's first ever golf day was held in October to celebrate the association's 40th anniversary. The event was held at the Forest of Arden championship course on an absolutely beautifully sunny day. The following intrepid golfers fought it out to be the highest scorer or nearest the pin.
The players were:
Ken MacLachlan – Thermo Fisher
Marek Lukaszczyk - WEG
Paul McLoughlin – Carbolite Gero
Paul Short – Nord
Loui Bovis - Nord
Ben Sunderland – Camlab
Tom Gould – Carbolite Gero
Simon Keogh – Siemens
Kay Tonkinson – Publitek
Stuart Calvert - Nord
Russell Maccabe - WEG
Luke Housley – Appleton Woods
Andy Wells - Porvair
Andrew Stephenson - Nord
Ian Clay – Publitek
Kevin Doolan – Porvair
Chris Moore – Appleton Woods
The overall winner of the competition was Russell Maccabe of WEG, with Loui Bovis and Simon Keogh close behind. The winners of the nearest the pin competitions were Paul Short and Simon Keogh.
The players were joined at a very convivial dinner by Tony Collins Lee Oakley and Mark Radley. Unfortunately, Tim Collins, who was due to host the event, could not attend and was very much missed, but he will be joining us for the annual conference in March.