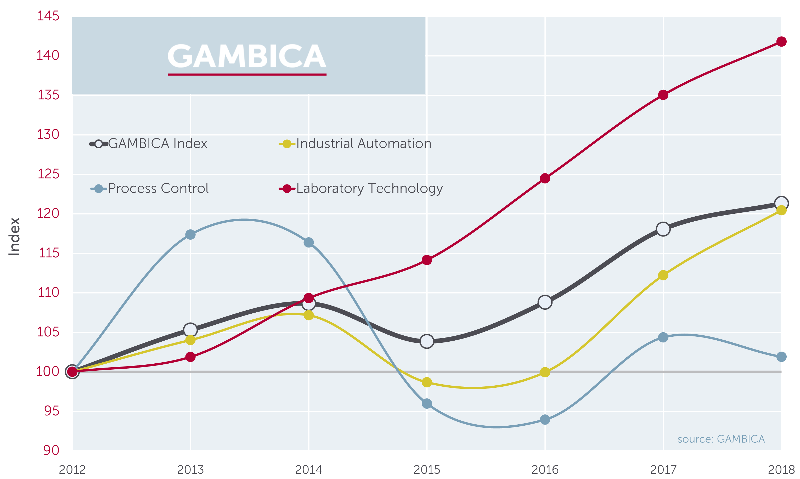 The GAMBICA Index is an indicator of the level of business for our Industrial Automation, Process Instrumentation & Control and Laboratory Technology sectors. It shows the levels of all 3 sectors individually and combined, using the 2012 data as a reference point.
The combined GAMBICA Index shows a 2.8% growth in 2018, continuing the overall growth trend, albeit it at a much slower rate than the record 8.5% in the previous year. Performance across sectors and customer segments has been varied, with uncertainty causing reduced investment in some areas.
The continued growth of 5% in the Laboratory Technology sector demonstrates its resilience despite uncertainty beginning to have an impact on the activity of some EU purchasers. Lab companies have become used to significant growth year on year and 2018 saw more variability in performance between companies and across the year. However, exports have seen strong growth and this trend looks to be continuing in the subsequent period.
All products sales included in the Industrial Automation sector are trending upwards with the third consecutive year of growth, this year at 7.3%. However, despite receiving a boost from the addition of Servo Drives being included for the first time, sector growth is slower than it was in 2017 (12.3%). Influences such as the food and drink sector increasing their capital expenditure by 10% in 2018 have help drive the continued growth but not enough to replicate the bumper growth of 2017 – which was largely seen as a recovery from pre-referendum uncertainty.
The oil & gas price remains a significant factor in variable overall performance of the Process Instrumentation & Control sector. The positive trend in oil price which began in mid-2017 stalled at the beginning of 2018 and, despite a significant rise in Q3, by the end of the year it dropped again, finishing well below the price the beginning of the year. These fluctuations in oil price have resulted in more cautious investment in large scale projects in the North Sea. While sales of instrumentation have been relatively buoyant for most major industrial sectors (including Oil & Gas, Chemical, Petrochemical, Food & Beverage and Water & Waste), the overall effect is a year on year decline in the total PIC market of around 2.4%.