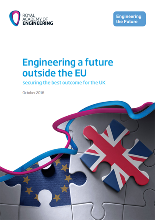 A report published by the RAE hails the government's renewed focus on industrial strategy as a major opportunity to help the UK compete on the world stage, but warns that Brexit must not restrict access to the engineering skills from across Europe that our economy relies on.
Engineering a future outside the EU[external download link] has been compiled by an alliance of the UK's professional engineering organisations led by the Royal Academy of Engineering and representing over 450,000 engineers. With engineering contributing at least £280 billion in gross value added to the economy – 20% of the total – the report aims to inform government of the key issues that impact on the UK's engineering performance as it forms its position on leaving the EU.
Three overarching points emerged most strongly from the report:

• The UK engineering community is committed to building on its international reputation to make the most of global opportunities in research, trade and investment. The UK must continue to be welcoming and open for business.
• Government needs to continue to engage with leaders and opinion formers throughout industry and academia to create a shared vision for the UK in the world, building confidence and managing the inevitable uncertainty brought about by the referendum result.
• A new industrial strategy, based on strong partnerships between industry, academia and government, will be key to maximising opportunities for wealth creation and to enable engineering to contribute effectively to economic development and social progress