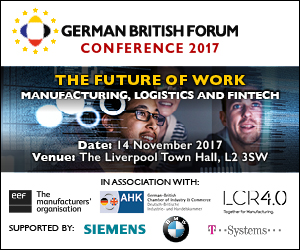 GAMBICA is delighted to support and speak at the 2017 German British Forum conference, "Digitalisation and The Future of Work", which will be held on 14th November 2017 at the Liverpool Town Hall, 08:00 – 17:30
The conference will debate the challenges for recruitment and training for businesses in the age of digitalisation and automation. Steve Brambley, GAMBICA Director of Public Affairs, will compare the short term displacement of jobs with the long term growth through productivity.
Conference speakers include Lord Mandelson (Chairman of Global Counsel and President of Policy Network), Dr Peter Ammon (German Ambassador to the UK), Juergen Maier (CEO of Siemens UK), Dieter Geuss of BMW Hams Hall engine plant, Carl Arntzen (CEO of BOSCH Thermotechnology Ltd.), Mark Whitworth of The Peel Group – main construction contractor for Liverpool SuperPort, Terry Scuoler (CEO of manufacturers' organisation EEF), Kieran Ring (CEO of the Global Institute of Logistics), director from T Systems in Germany, expert on smartPORT in Hamburg and Bremen, smartLOGISTICS and more.
More information can be found here: http://www.gbf.com/conference/the-future-of-work-gbf-conference-2017-14th-november-2017/
The German-British Forum was established in 1995 to reinforce pivotal political and business relationships to promote education and social exchange between Germany and Britain.