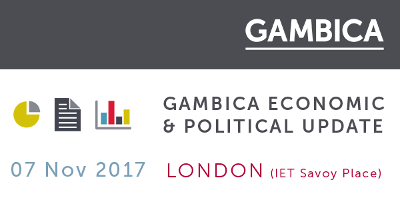 This member-only event will take place at the IET, Savoy Place in London from 10:00 – 15:30 and consists of interactive sessions from expert speakers on the current trends in the economic and political environment;
In the morning session we will hear from two government speakers on Industrial Strategy and Brexit;
Clare Porter, Head of Manufacturing at BEIS (Dept Business, Energy, Industrial Strategy)
Phil Earl, Deputy Director at DExEU (Dept for Exiting the EU)
In addition we will get some advice on the forthcoming GDPR (General Data Protection Regulation) from PwC and an overview on the recruitment landscape from Matchtech.
The afternoon session will be led by two experienced senior economists from Oxford Economics to give a tailored forecast to our sectors
UK and World macro-economic trends and forecast – Martin Beck
UK industry markets trends and forecast – Jeremy Leonard
In addition to the presentations and opportunity to ask questions, attendees will also receive a detailed report from Oxford Economics and copies of the presentations.
On top of being a valuable input to the company strategic and budget planning process, it is also an excellent opportunity to network with other GAMBICA members from all four of our sectors.
The cost for the event and report is £150 + VAT per person. To register your place now, simply send an email to Sarah Wicks sarah.wicks@gambica.org.uk with the name and email address of all delegates who will attend.

Download the agenda here