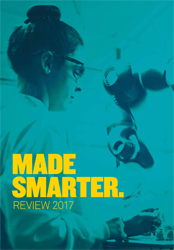 The Made Smarter Review (previously named Industrial Digitalisation Review) has published a report on maximising the benefits from increasing the adoption of digital technology. GAMBICA participated in the review process, leading on assessing the impact of digitalisation on employment and contributing to the report (pages 47-55).
You can download the report here: https://www.gov.uk/government/publications/made-smarter-review
The Made Smarter was launched in January 2017 as part of the Industrial Strategy announcement, setting out the aim for the UK to be a leader in Industrial Digitalisation (ID) and identify ways to exploit the benefits of applying digital technology to the manufacturing industry through a strong industry and government partnership. Benefits to the UK economy over the next decade could be as high as £455bn (+22%) for UK manufacturing, increasing manufacturing growth between 1.5 to 3% p/a, creating an estimated net gain of 175,000 jobs throughout the economy and reducing CO2 emissions by 4.5%. Overall, industrial productivity could be improved by greater than 25%.
The review aims to:
leverage Industrial Digitalisation's potential to raise UK productivity and competitiveness
create new, higher-paid, higher-skilled jobs and positively offset the displacement of poor productivity, poorly paid jobs
increase exports through competitiveness and connections derived from industrial digital adoption in design, manufacturing and services
improve the resource efficiency of the UK's industrial base, making it more resilient to global resource supply disruptions and improving environmental impact
The Review focuses on 3 priority areas informed by understanding of the 3 main challenges business face. They are:
more ambitious, informed and focused leadership
more widespread adoption of Industrial Digital Technologies across supply chains, especially within SMEs
faster Innovation and the creation of new Industrial Digital Technologies, new Industrial Digital Technologies companies / value-streams and new capabilities to sustain UK competitive advantage
3 game changing recommendations (Ecosystems; Skills; Marketing) have been proposed in response to these, and are complemented by one support recommendation, which is broken down into 10 specific policy proposals.