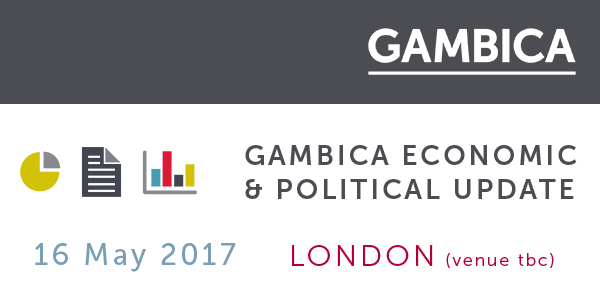 The GAMBICA Economic & Political Update is a member-only event, with the next one taking place on Tuesday 16th May 2017 in London (venue to be confirmed) from 10:00 – 15:30
The format of the day is five interactive sessions from expert speakers on the current trends in the economic and political environment;
UK and World macro-economic trends and forecast – Oxford Economics
UK industry markets trends and forecast – Oxford Economics
European Union relationship – DexEU (Department for Exiting the EU) speaker invited
Industrial Strategy – BEIS (Business, Energy & Industrial Strategy) speaker invited
International Trade – DIT (Department for International Trade) speaker invited
In addition to the presentations and opportunity to ask questions, members also receive a detailed report from Oxford Economics and copies of the presentations. As well as being a valuable input to member strategic and budget planning process, it is also an excellent opportunity to network with other GAMBICA members from all four of our sectors.
As the agenda and speakers are still in the confirmation stage, we are pleased to offer an early booking discount until 31st March 2017. If you book now, you will pay £100 + VAT instead of the full rate of £150 + VAT.
To register your early booking now, please email Sarah Wicks with the name and email address of all delegates who will attend.