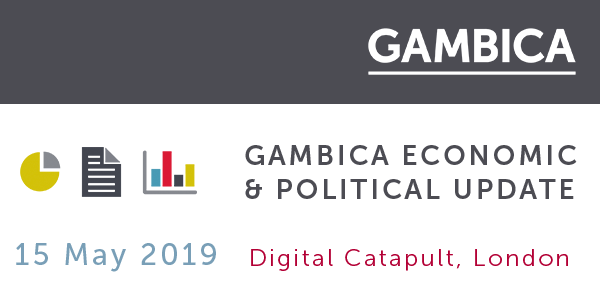 The next GAMBICA Economic & Political Update will be on 15th May 2019 and GAMBICA Members can register now.
The event will take place in London at the Digital Catapult from 9:30 – 15:00 and consists of interactive sessions from expert speakers on the current trends in the economic and political environment;
UK and World macro-economic trends and forecast – Oxford Economics
UK industry markets trends and forecast – Oxford Economics
Future UK / EU relationship – Department for Business, Energy and Industrial Strategy (BEIS)
Trends in automotive – SMMT
Future technology trends – Digital Catapult

Download the agenda and event details
In addition to the presentations and the opportunity to ask questions, you will also receive a detailed report from Oxford Economics and copies of the presentations. On top of being a valuable input to your company strategic and budget planning process, it is also an excellent opportunity to network with other GAMBICA members from all four of our sectors.
The cost for the event and report is £180 + VAT per person. To register your place now, please complete the registration on Eventbrite
We look forward to seeing you there!
[Please note this event is only open to GAMBICA Members - click here if you would like to find out about joining]